Paint Protection Film: Benefits and Services at Detail Pro Shop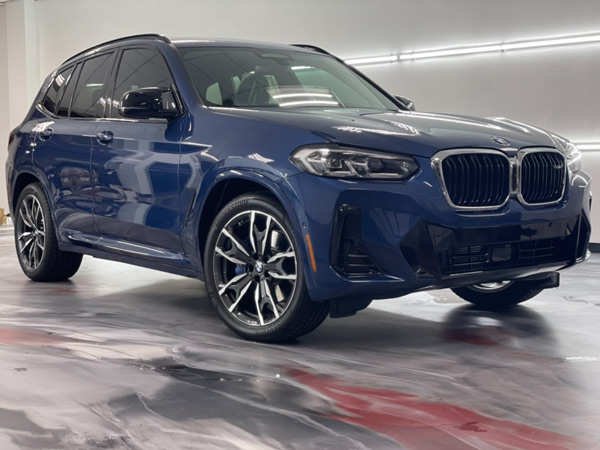 Paint Protection Film is a transparent urethane layer that protects your vehicle's paint from everyday damage including scuffs, scratches, swirls, rock chips, and more.
Fact:  Urethane film technology was initially developed for protection during the Vietnam War to help prevent damage on the leading edge of helicopter rotor blades.  The film was originally developed to be lightweight, resilient, and replaceable – reducing the need to constantly replace entire rotor blades.
XPEL ULTIMATE PLUS Paint Protection Film takes this same basic technology to a whole new level.
Heat Activated Self-Healing Topcoat:  Constructed from an elastomeric polyurethane, ULTIMATE PLUS will self-heal light scratches & swirl marks with a light heat application to the film's surface.
Non-Yellowing:  Our proprietary film formulation will not yellow from UV exposure, ensuring protected areas are invisible.
Discoloration & Stain Resistant:  Don't worry about specs, spots, or splotches from contaminants. ULTIMATE PLUS is stain resistant & will maintain clarity under the harshest conditions.
Prevents Wear & Tear:  Stop rock chips, nicks & scratches in the paint, and keep your vehicle looking as good as the day it rolled off the lot.
Edge Seal Technology:  Eliminating lifting & delamination is one of the biggest attributes to Xpel technology vs competing products.  Our signature Edge Seal Technology ensures film stays down & keeps surfaces protected from contaminants.
How Does Paint Protection Film Work?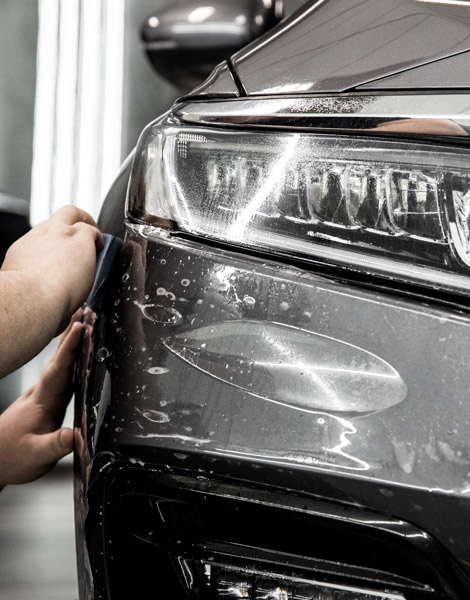 Paint protection film comes in rolls of ready-to-use material. It consists of 4 distinct layers, each with a different function.
The release liner that protects the other layers and keeps them clean up until installation. When it is time to apply the film, the liner is removed and discarded.
The acrylic adhesive that binds the PPF to the clear coat but is designed to stick to remain attached to the film, making it 100% removable without damaging or permanently altering the paint.  (Think – much stronger post-it note technology)
 The urethane layer – the actual protection and material between your vehicle and the debris and contaminates.
The coating layer which seals and protects the urethane layer from contaminants.
We often hear debris impacting our vehicles, but the affect is diminished by the creature comforts within the vehicle.  To put it in perspective, imagine a handful of small pebbles thrown at the front of your vehicle by professional baseball pitcher at 70+ mph. If you were standing next to the pitcher watching it happen, it would be devasting to watch.  However, from the comfort of the driver seat with the radio on, and all of noise dampening features installed today we hardly realize anything is happening…until we hand wash our vehicle the next time.
Once Paint Protection Film is applied, the urethane layer will absorb much of the force of the impact, spreading it across a wider surface area, helping to save the paint from chipping.
Paint Protection Film is not bullet-proof and can be damaged by large debris that can not only damage the urethane, but also the paint and potentially dent the body panel itself.  A minor fender bender can peel and permanently scar the material. Strong Chemicals such as acids and solvents can discolor the topcoat.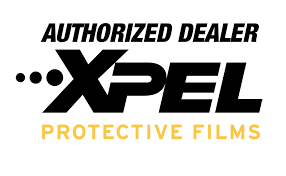 Our Promise: Xpel has a long reputation for quality in its films.  As an authorized dealer we non-only stand behind the product's 10-year manufacturer's warranty but we extend that warranty to "As long as you own the vehicle" through the confidence and years of experience in preparation and installation process.  In other words, if you are not satisfied with a reasonable level of protection of durability, neither are we.  And we will replace the film in those instances, and we will also work directly with your insurance company for those instances that are not your fault.