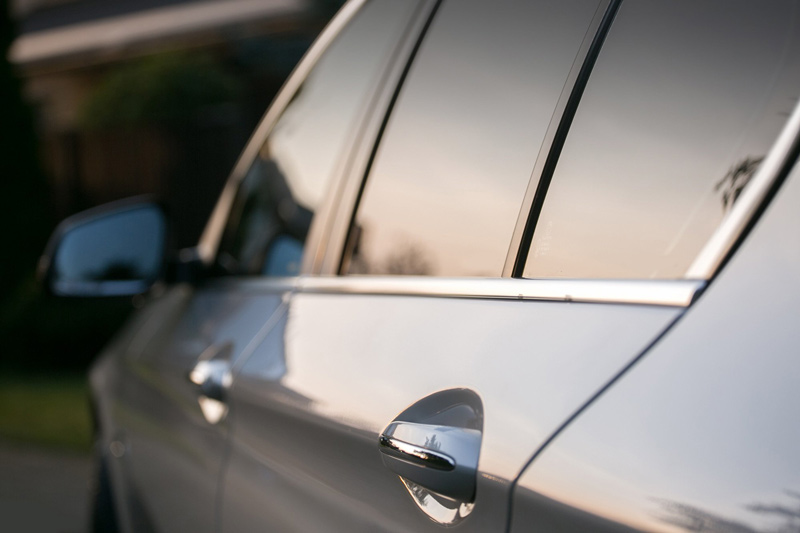 You've probably recognized the aesthetic appeal of a car with tinted windows. The "before" and "after" pictures tell the story. But what other reasons are there to invest in tinting your car, truck, SUV, or van windows?
Here's a look at six reasons it pays to invest in car window tinting.
1. Protects Car Interior
Auto window tinting makes sense because it can protect your car's interior. Ultraviolet rays can do a number on leather seats, dashboards, and other interior surfaces. But window tinting can provide some protection.
After sinking tens of thousands into buying a vehicle, you don't want to see the upholstery prematurely degrade or fade. While window tinting won't stop the accumulative impact of sun exposure, it'll slow down considerably.
You can extend the longevity of upholstery even more if you periodically apply protective treatments that clean, rejuvenate, and protect the interior.
UV rays can be dangerous. That's why sunscreen lotion is recommended when out in the sun for extended periods. But you must also consider how UV rays can adversely impact your vehicle.
Also, remember that protecting the interior means your car will be worth more if you decide to sell it down the road.
2. Extends Battery Range and Reduces Fuel Consumption
Did you know you can actually extend your electric vehicle's battery range and lower fuel consumption by getting window tinting services?
With advancements in technology, specific types of window tint now provide "heat rejection" features that will reduce the temperature inside your car, allowing you to use your air conditioner less frequently and on a lower setting during commutes. A vehicle's AC compressor can draw a lot of energy away from your electric or gas drive system.  Heat rejection window tint allows passengers to turn down or entirely shut off the AC system, increasing efficiency.
You'll be able to keep more of your hard-earned money in your wallet and lessen your environmental impact.
Ask a window tinting company about how specific types of window tinting can improve your vehicle's efficiency.
3. Provides Greater Privacy
Do you want greater privacy in your car? If so, window tinting services can be a godsend since it'll afford more privacy for you and your things.
You'll have a greater deal of privacy for you and your passengers. But you'll also be able to safeguard things in your car from the prying eyes of passersby.
A lot of thieves are opportunists. In other words, they see something, feel they can retrieve it without being caught, and then launch into action. But if you have tinted car windows, it'll be harder for them to see into your vehicle.
Opportunistic thieves who don't see what's in your car will leave your vehicle alone. You can consider tinting to be an inexpensive theft-deterrent strategy.
4. Increases Safety
You might be surprised to learn that window tinting film can make you and the passengers in your car safer. Even so, there are definite safety benefits.
If you get in a car accident that shatters the glass, the window tint film will help keep any shards of glass from injuring anyone inside the vehicle.
The film will grip onto the glass so that shards don't become dangerous projectiles. This benefit can reduce the odds of serious injury or loss of life.
5. Prevents Glare
When opting for window tinting film on your car windows, you'll get protection from glare. You likely know that glare can be an issue and can lead to white-knuckle rides if it occurs when you're driving on busy roadways.
Glare negatively impacts your ability to see what's going on in front of you. Unfortunately, a car accident can occur in the blink of an eye if you're not careful. So, you can't afford to have glare compromise your vision.
Window tint film will help prevent or reduce glare caused by the sun or other sources. You'll feel much more comfortable behind the wheel of your car when you have some built-in protection against glare.
6. Safer for Children and Pets
Children typically sit lower in seats than adults, providing a more direct line of sight to the sun and harmful UV rays.  Pets don't sweat like humans do and are more directly affected by direct sunlight.  Window tint can provide up to 99% UV ray blocking and specific types can also block the heat as well.  Whether or not you're a pet owner, or have children, you understand it's best to never leave pets or children unattended in a vehicle. Being locked in a car, for any length of time, is a no-no.  But while driving we may not realize that there are still dangers present, and quality window tint can provide a safer environment.
Ensure you get high-quality window tint film installed by professionals so you and your pet enjoy the benefits that window tinting affords.
Car Window Tinting Is the Way to Go
Are you considering whether or not to get your windows tinted? You can see above that getting it done offers some significant benefits.
When you're ready for quality car window tinting from a reputable service provider, call us at Detail Pro Shop. We aim to detail and safeguard our customers' cars, trucks, vans, SUVs, and other vehicles.
Get in touch to ask any questions, get a quote , or book an appointment. We're here to help.